S nejnovější verzí Visual Studio Code 1.50 přichází oficiální podpora ARM procesorů a také i podpora Rapsberi Pi. VS Code, pravděpodobně celosvětově nejpoužívanější programátorský editor, je tedy nyní oficiálně dostupné pro architektury Linux ARMv7 a ARM64 a můžete ho naistalovat na svoje Rapi stejně jako jsem vyzkoušel také, viz obr. níže.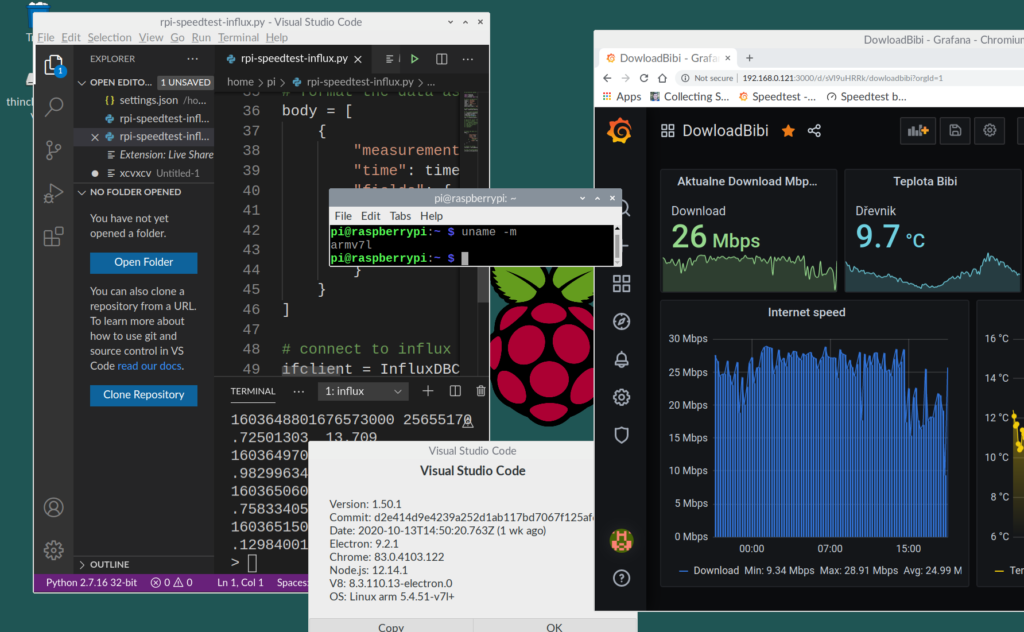 Většina z nás má na Rapsberi asi Rapsbian 32bit OS, … můžete ověřit pomocí
$ uname -m
což dá většinou armv7l a to je 32 bit OS verze a tak budete downloadovat 32bit "ARM" verzi Debian .deb baliku. Dvakrát poklikáte jako ve Windows a za chvilku je hotovo.
Z vlastní zkušenosti na RaPi4 se jeví vše super, jediná maličkost že na Rapsberi přistupuji přes RDP z mého Windows PC a někdy v menu přeskakuje myš – pravda asi jsem jediná lama co používá VSCode a v něm myš a menu ale to je nepodstatné. (To se mi na starší neoficiální komunitní OSS ARM verzi https://code.headmelted.com/ nestávalo.) Jinak odezva, rychlost, stabilita je zcela OK.
Buri
---